DogWatch of the Gulf Coast
It's all about your dog!
Welcome to DogWatch of the Gulf Coast! My name is Shannon Mathews. My husband, Mark, and I have been the proud owners of your local DogWatch dealership since 2011. We were first introduced to DogWatch in 2003 as customers. We were unaware that professional dog fence installation was even an option until a local landscaper we were working with urged us to consider it. He advised that his experience with his customers was that do-it-yourself systems simply did not work. We followed his advice, and we were so satisfied and impressed that we bought the dealership! As a locally owned and operated family business, we want our neighbors to experience all of the freedoms that come with owning a DogWatch Hidden Fence. Since joining the International Dealer Network in 2011, DogWatch of the Gulf Coast has won Sales Achievement Awards in 2013 and 2014, and DogWatch of Dealer of the Year for 2014. We are dedicated to making 2016 our best year ever!

Our family includes two wonderful children, Manna and Stephen, as well as Mackerel and Meatball, our beautiful Lab/Australian Shepherds. As shepherd mixes, they love to chase the cows on the farm behind our house, but they know exactly where to apply the breaks to stay within their boundaries!
Service Area
We provide services to customers in the Gulf Coast area, including the towns and cities of Biloxi, Crestview, Daphne, Destin, Fairhope, Foley, Gulf Breeze, Gulf Shores, Gulfport, Milton, Mobile, Orange Beach, Pascagoula, Pensacola and Spanish Fort, AL and the entire surrounding area.
Get a Free In-Yard Estimate!
Our representatives will meet you at your home for a free in-yard estimate. We will help assess your needs and customize a solution that suits both you and your pet. Call today or schedule an appointment to get things started!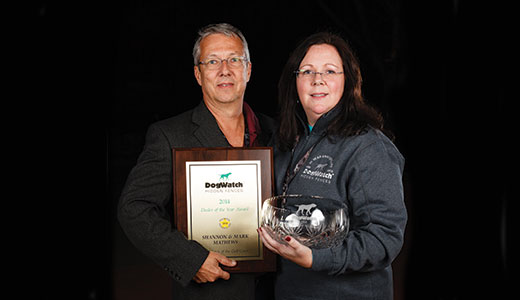 Why Choose DogWatch of the Gulf Coast?
1. Our number one concern is the safety and well-being of your pet. We provide the support you need to ensure successful training and happy containment.
2. We provide a proven PetFriendly™ training program. We train your dog (or cat) to recognize the boundary flags and the audible warning signal (or vibration) before introducing the correction.
3. We are experienced professionals committed to providing excellent customer service and support. We strive to service every customer promptly and courteously.
We want to hear about your experience! Write us a review on Google+
Simply the best. No getting around it.™
Another reason to choose DogWatch of the Gulf Coast is that we are an authorized DogWatch dealership. The DogWatch Hidden Fence is the most technologically advanced and the easiest to use, and it is backed up by a no-hassle Lifetime Warranty from a company with more than 25 years of keeping pets happy and safe.

What makes us Simply The Best?
---
Customer Testimonial
The results have been phenomenal with our three labs. They have learned the boundaries and they do not cross them. The peace of mind and the reduction of stress - on both humans and dogs - has made all the difference in the world.
John N.